clubbing
3 Ways to Spend a Japanese New Years Eve
5:12 PM
🎊Here's 3 quick suggestions on how to spend your New Year's Eve in Japan!🎊
The Club Method
Many clubs in Japan have their own countdown events. Tickets may be sold in advance, but walk-ins are always welcome (at least in Osaka they are, not sure about Tokyo). I would suggest pre-gaming, especially if it's cold and especially if you're on a budget. Most clubs will be charging a premium to get in, with only a drink ticket or two included in the entry price.
Clubs in Osaka with NYE Events
(all of these events are on
iflyer.tv
)
WORLDOUT -Countdown Party-
Hilton Osaka
1-8-8 Umeda, Kita-ku, Osaka-shi
Tickets: 5,500 yen (presale tickets available for 4,500 yen)
Hours 8:00 PM (first act at 9:00 PM) until 4:00 AM
https://iflyer.tv/en/worldout/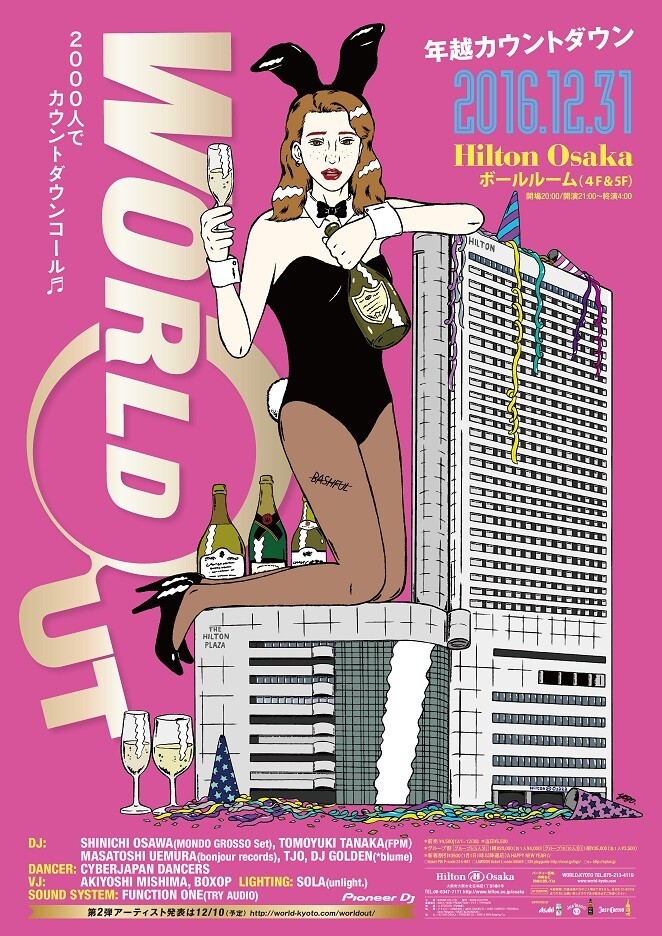 This seems to be a fairly big party. The event page says there will be about 2000 people there, and they'll have a lot of famous DJs like ☆Taku Takahashi (M-Flo). The cost is quite high, compared to smaller club events, but I think you're more or less guaranteed a good time.
TRIANGLE COUNTDOWN 2016-2017
Triangle
3F-5F Ribia Bldg 2-18-5 Nishishinsaibashi, Chuo-Ku, Osaka
Tickets:
2,500 yen(+1 drink) / 2,000 yen (+1D) in adv.
Hours:
8:00 PM (first act at 9:00 PM) until 4:00 AM
https://iflyer.tv/en/event/278918/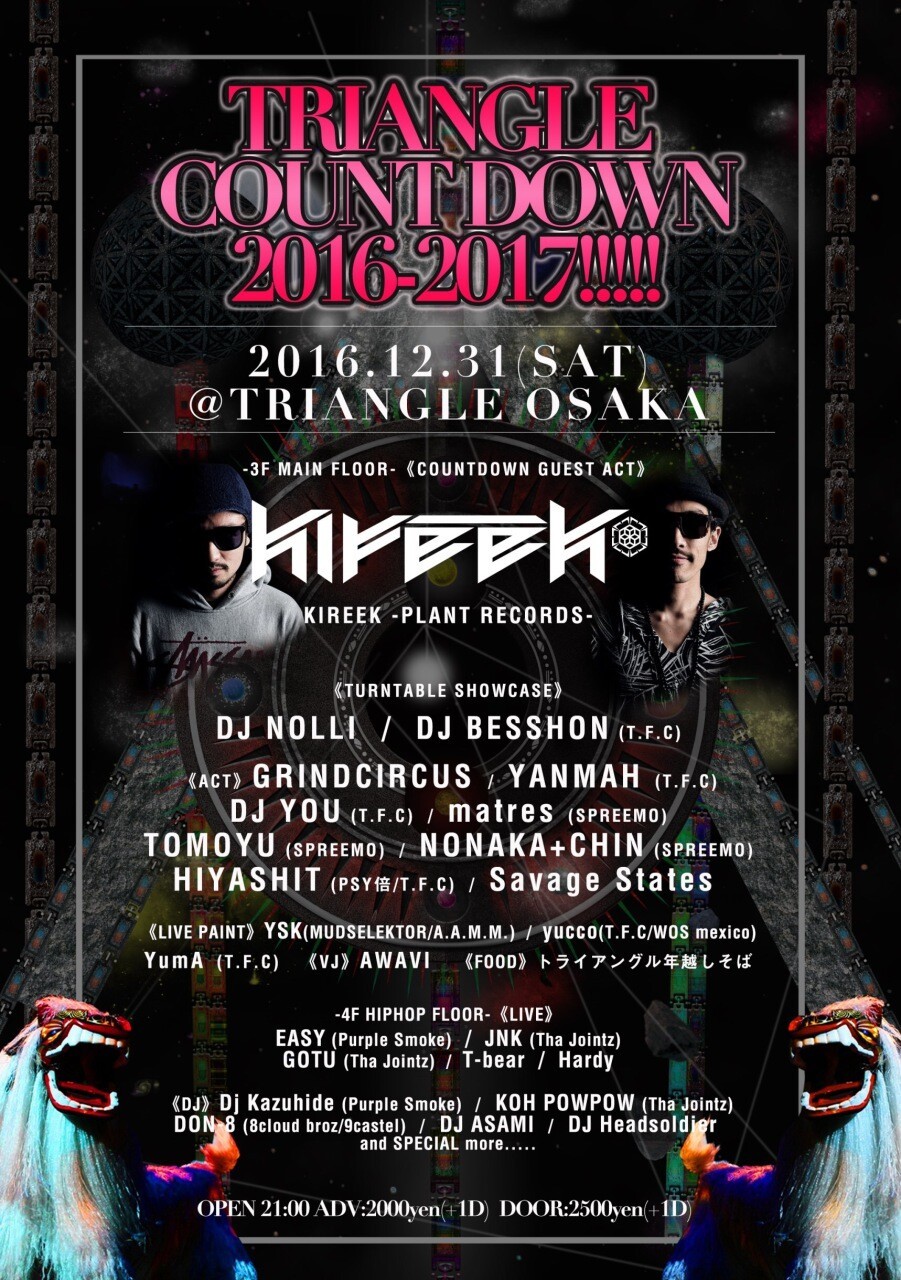 I wandered into club Triangle's Halloween event (mostly because non-Japanese got in free and we were cold), and they were playing some solid dance tunes on the the 5th floor. I would recommend this event for people that actually want to dance. According to the event page, they'll be spinning drum & bass, as well as hip hop, plus there will be food for sale inside.
The people here are really chill and they don't mind throwing a little extra in your drink. One of clubs I visit quite often throughout the calendar year.
UNIVERSAL STUDIOS JAPAN
2-1-33 Sakurajima, Konohan-ku, Osaka-shi
Tickets:
12,800 yen (Party Pass)
Hours:
7:00 PM until 2:00 AM (park open until 9:00 PM January 1st)
https://iflyer.tv/en/event/278516/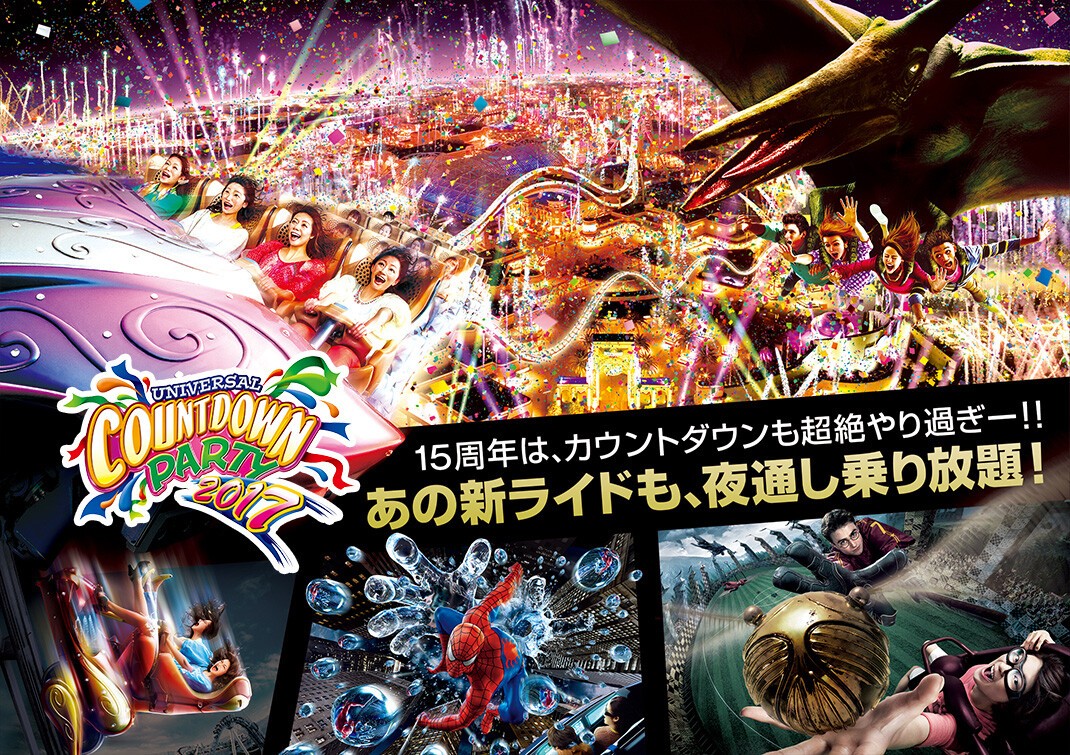 Universal Studios will be having its own countdown party within the park. I've never been to this event, but according to the event page, you're invited to hang out inside the park from 7:00 PM on the 31st until 9:00 PM on the 1st. Season pass holders are allowed to stay in the park until 5:00 PM on the 31st, after which only party pass holders will be allowed in. I'm not sure of the crowd sizes involved with this event, but with music guests like M-Flo and Daishi Dance, I imagine that it will be pretty packed. The music portion of the event will run until 2:00 AM.
JOULE COUNTDOWN 2016 - 2017
Club Joule
2F,3F Minami Sumiyamachi Bld, Nishi-Shinsaibashi Chuo-Ku Osaka-shi
Tickets:
2,500 yen (2,500 yen in adv.) +600 yen drink at the door
Hours:
10:00 PM until 5:00 AM
https://iflyer.tv/en/event/278777/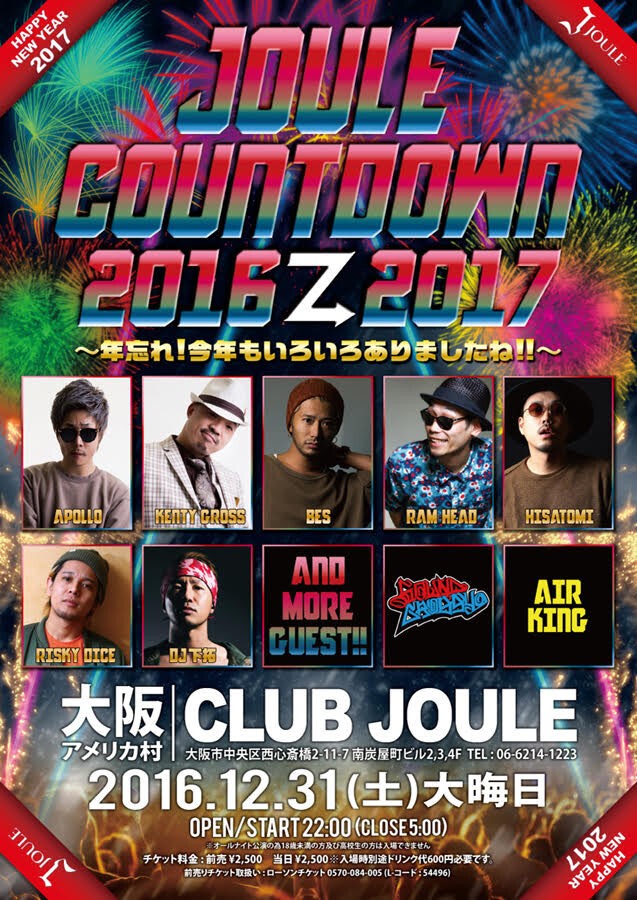 I had a Club Joule countdown a few years back when my bestie visited me in Japan. I wouldn't say it was the best countdown party, but I wasn't disappointed or bored, so that's a win? This event is nice because it's fairly cheap (compared to the other events listed,
quite
cheap), but they will make you wait outside, even if it doesn't look busy. I wouldn't advise trying to get in right before the countdown begins, but at least they don't raise the price after the new year.
RED 「Champagne SATURDAY」 / COUNT DOWN PARTY '16→'17
B1, B2 1-5-30 Shinsaibashisuji, Chuo-ku, Osaka-shi
Tickets:
9:00 PM - 11:00 PM MEN 4,000 YEN | LADIES 2,000 YEN
11:00 PM - 1:00 AM MEN 5,000 YEN | LADIES 3,000 YEN
1:00 AM - LAST MEN 3,500 YEN | LADIES 1,500 YEN
Hours:
9:00 PM until LATE (around 4/5:00 AM)
https://iflyer.tv/en/event/276602/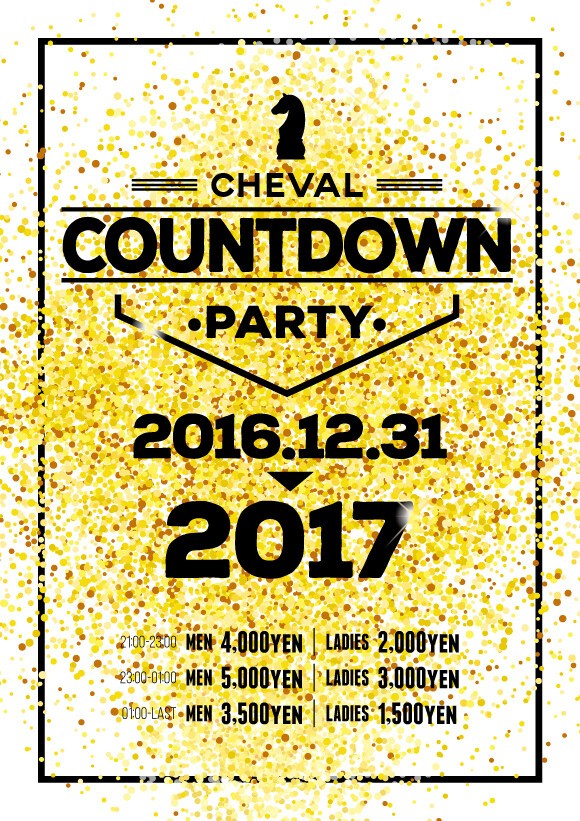 Ohhh Cheval. Or as I like to think of it, Joule's younger, uppity sibling. This is a fairly new spot and quite popular with the young folk, so if you're looking for a drunk night out with a bunch of 20-somethings, this is the place. They'll be holding a sexy Santa (I know) costume contest with some pretty awesome prizes (travel vouchers and the like), so stop buy if you've got a Santa getup that you think could take the cake. This place has a bit of a bias, so only men 22 years of age and older are allowed in while women 20 and up are still allowed.
The Kohaku Method
Official Kohaku Website (JP)
This method is quite simple and the only thing you really need for it is a TV (the kotatsu is optional). Kohaku Utagassen is a live music "contest" held at the end of the year, every year for the last 66 years. Popular musicians are divided into two groups, the "red" group of female singers and the "white" group of male singers, and the winner is chosen by votes.
I would suggest this method to people who love Japanese music. You're sure to see some of your favorites appear, plus you get 4 hours of live music. The last few times I've watched, it was mostly idol groups, so I passed the time on Japanese-English Twitter, laughing at the ridiculousness of it all.The Arashi Jedi were truly ridiculous.
If you don't have a TV at your place, I do believe that you can watch this program on the TVs at karaoke shops. Just ask the shop staff to change the channel for you (going to karaoke at this time of year is quite expensive though).
The Spiritual Method
This method is simple and fairly cheap, simple, and definitely the most traditional. All it takes is a visit to your local temple. Buddhist temples throughout Japan will begin ringing their bells at 12:00 AM 108 times to help rid the world of the 108 worldly desires. In my neighborhood, the temple allowed visitors to ring the bell as well, so if you think that's something you might be in to, visit your closest temple. They may even have some hot drinks available, but don't forget to give back.
Stairs to Hozanji.... I think.
For Hatsumode (初詣), which is the first temple visit of the year, you visit a shrine or temple (I like hanging out with local deities) to make offerings, pray for good fortune and buy an amulet or two. Lines can be pretty ridiculous for the first 3 days of the year. The Sumiyoshi Taisha grand shrine in Osaka has over 1 million visitors in those first few days on average, so you might want to hold off on daytime spiritual trips until the following week. A night time trip might not be as bad.
Of course there are other ways to spend your new years. I'm not feeling any of the aforementioned ones, so I might try to trick Shota into watching horror movies on Netflix, or go bar hopping with some friends (if said bars are open).
All the same, I just wanted to toss a few ideas out there for folks that may be at a loss of what to do. If you have any suggestions or questions, comments or concerns, feel free to contact me!
For more personal information about my new years' in Japan, please check out the video blog below!
★Peaces★